Did you go to Dover Days? Did you smell the food? Did you play the games? Well, if you did not attend, you missed a good time! This town fair had over 40 booths; a few examples are the following organizations and businesses who sponsored booths:  PTO, Dover Girls Scouts, St. Dunstan's Church, Precious Beginnings, The Dover Church, Beth Israel Deaconess, Cub Scouts, Most Precious Blood Church, Dover Market and more. This fair was held at the Dover town square on Sept. 8, 2012 and has been held annually every year since 1976.
At Dover Days, there are many activities to fit everyone's interest every year,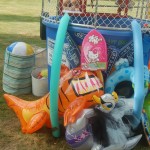 such as the following games and amusements from the past years' fair. There was a Hay Ride for families to ride on around the center of town. There were also many inflatable structures for children to play on such as the bouncy house, obstacle race course, big inflatable pizza play house, big slide, and the bouncy pole fighting arena. Sand art was another activity where you could layer, in a bottle, different shades of colorful sand. The best part was the delicious food available at the different food booths, … hamburgers, cheeseburgers, hot dogs, popcorn, Italian ice, slushies, beverages and an ice cream truck.
When everyone had had enough to eat, they wandered over to be entertained by the multiple PTO games. Plinko, Basketball Shoot, Duck Game, and the Lollipop Tree game. But the most favorite  activity appeared to be – the Dunk Tank. A few volunteers were Officer Harry, a Dover policeman, the Vice Principal, the technology teacher, a 5th grade teacher, and a former 5th grade Teacher's Aide, all from Chickering School.

It was another great and successful fair. Be sure to make it next year if you didn't make the awesome experience this past year.
Reported by: John S. and Will F.