Do you know what we do with all our art after we finish it? We don't just take it home, we celebrate it! On this special night the Arts are presented in 3 ways. One is putting up paintings and sculptures, which is done by Mrs. Pelletier, another is displaying children's projects on the computers, done by Mr. Harte, and the last is sharing Chickering School's fabulous musicians and chorus, with the help of Ms Pappas and Mrs. Barry. We interviewed all the teachers involved in this occasion. The 3 questions we asked gave us details on what they like about Arts' Night, what they would change, and how they prepare for the evening. It's time to celebrate the Arts!
What is your favorite part of Arts' Night and why? Mrs. Barry and Ms Pappas, the music teachers, both said their favorite part was having their Art being a celebration. They and the students worked hard all year, so they deserve at least one night to show off what they had taught our students. Mrs. Pelletier answered that she likes how the students work so hard all year for this very night, to let family and friends see their artwork and for them to take it home with them.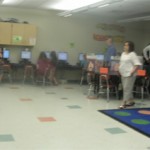 Mr. Harte mostly enjoys watching families come in and appreciate their children's hard work and art creations.
If you could change one thing about Arts' Night, what would it be and why? Again, both the music teachers thought the same thing. They both would love a larger and better auditorium, because they want their music to be shown in an auditorium with less echo, not a hot, stuffy, crowded gym. They want real seats or movie-style seats, not the cafeteria benches. Mrs. Pelletier wishes Arts' Night was on a cooler day, because Arts' Night always seems lands on a hot day. One 'con' to that idea is that if Arts' Night was earlier in the year, the students wouldn't have as much artwork in their portfolios. Mr. Harte would like it if he could have a larger area to show off his pupils' work. Even though he only has first and second graders' work being displayed, he still thinks the computer lab is small with such a lot of people!
How do you prepare for Arts' Night? Ms. Barry spends a lot of her time helping 4th and 5th grade students practice their instruments or strings. She teaches them little by little instead of giving them a truckload of notes on the first day and practicing them everyday. Ms Pappas prepares for the occasion the whole summer! She admits that she spends over 40 hours finding the perfect music. That's almost two days straight! Her technique is if the song get stuck in her head all day, it's good! Mr. Harte's job is to make sure everyone's projects are finished. After that, he makes it easy for parents to find their children's work by logging on to all the computers and having the projects ready.
We are very fortunate to have the special Art programs we have, here at Chickering. They are so fabulous, they deserve a celebration. If it weren't for Mrs. Pelletier, the art teacher, Mr. Harte, the technology teacher, and Ms Pappas and Mrs. Barry, the music teachers, this special night wouldn't be possible. It's Spring – the time to celebrate the Arts of Chickering School!

Reported by Ellie, Lauren, and Ryan