Room parents are on a mission to help the teacher organize the plans for different activities for the students at Chickering school. The job of room parent is an important job because they are planning all of the field trips and special events like Halloween parties! Kids are always having fun when they have field trips but if the room parents did not organize the field trips it would be more work for the teachers. We talked to 2 room parents to find out what it's like to be a room parent.
Mrs. Johnston and Mrs. Sullivan are our room parents this year in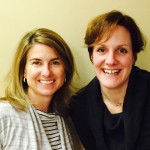 Mrs. Grady's class. We wondered if they had been a room parent before. Ms. Johnston shared, "I have been a room parent for Mrs.Saunders and Mrs. Baker." Mrs. Sullivan said she has been a room parent for Mrs. Dish, Ms Cronin and Mrs. Cohn.
Mrs. Johnston said "I enjoy getting to help the teacher and you don't get to talk about your own child. You get to know the teacher."  Ms.Sullivan says, "I like being a room parent because I get to meet other kids in the class and get to help the teacher when she needs it," they both  shared with us when asked what they enjoy doing as a room parent.
We were curious to know if their current classroom teacher, Mrs.Grady, has asked them to do a favorite activity and if so what is it? Mrs.Johnston said "I like using the sign-up Genius tool." "I like supervising the field trips," said Mrs. Sullivan.
Our final question was what are they looking forward to doing in Mrs.Grady's classroom this year. Mrs Johnston apparently likes the writers breakfast while Mrs.Sullivan likes to hang out with the kids at every chance she can.
And that ladies and gentlemen was our final question of the day. What surprised us most was they liked the sign-up Genius tool. We are looking forward to lots of fun activities planned this year by Mrs. Grady with the help of these great, experienced Room Parents.
reported by  Peter and Luke B.